Tuba and serpent player Michel Godard lets you improvise your way from the Renaissance to the Present.
Very often, our desire to improvise is hindered by our fear of not playing good enough, of not playing the right notes, etc… If we allow ourselves to "play like a child", improvising the way we want, we allow ourselves to get rid of this mental control (fear, judgement…) to find the spot where emotions and desires are free. Don't let yourself be fenced in.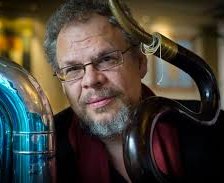 We'll look for tools in early music and in Mediterranean traditional music to approach new music through improvisation in a modal and melodic way.
We will start with simple exercises, allowing each of us to connect with the inner sound that comes through our musical instrument. We will go back to  XVI° and XVII° century  Italian music to check how musicians would improvise back then. We'll play some simple compositions (Frescobaldi, Cazzati…) of this period and also traditional melodies from southern Italy and Egypt, making them part of our vocabulary, allowing us to be free around them, feeling the power of modal melodies.
We'll see  how improvisation has developed, like in most musical traditions, with melody as its core. We'll see the healing potential of Gregorian chant and what it can do for us today.
We will always have a strong connection with new music and free improvising. All the exercises including those with early and modal music will lead us to be as free and connected to the present as possible.
We'll find bridges between past and present, looking forward to the next renaissance in music.
Of course there will also be time to relax and enjoy the surroundings of Harcigny.
This workshop is given in English. Maximum number of participants: 12
---
Verblijf: Je kunt met je eigen tent kamperen op het mooie terrein of gebruik maken van de comfortabele slaapzolder (max. 5 personen).
Tegen meerprijs is het mogelijk om één- of tweepersoonsaccommodatie te reserveren, waaronder de huur van een ruime privétent met bed. (Wil je een privékamer, informeer dan s.v.p. vooraf naar de beschikbaarheid!). Je voorkeur geef je aan op het inschrijfformulier.
De basisprijs voor deze workshop is 530 Euro (zonder evt. meerkosten voor verblijf).
LET OP: Boek je vóór 15 april dan geldt de vroegboekkorting van 25 Euro!
Inclusief:
* 6 overnachtingen
* alle maaltijden
Exclusief:
* Vervoer naar Harcigny (carpoolen is meestal mogelijk, je kunt dit aangeven op het inschrijfformulier)
Informatie en inschrijven:
Wil je meer informatie over de workshop neem dan contact op met Huib. 
Deze workshop is volgeboekt!