Improvising is a game – season 2, Michel Godard, 4 – 10 augustus 2019
Improvising is a game – season 2, Michel Godard, 4 – 10 augustus 2019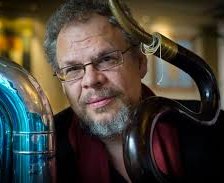 After a very succesfull summer workshop in Harcigny in 2018 (improvising from the Renaissance to the Present), tuba and serpent player Michel Godard will be back!
Improvising is a game (season 2): Can we improvise on all type of music? and with everybody?
A French humorist answered this question (replacing "improvise" with "laugh"): We can laugh at everything, and with everyone, but it's not always easy.
Improvisation is the link connecting all the music of the world. An improviser can indeed meet musicians from other worlds, he will find notes, sounds to get in touch with each other.
However, many musics have forgotten improvisation, our classical music for example, or most traditional music … ..
We will, during these days, build links, bridges between different musical cultures, jazz being of course, the starting point of our work. We will "play" with the sounds, find the pleasure of discovering new worlds
We can improvise with all the musicians present, and even laugh together.
This workshop is given in English. Maximum number of participants: 12
---
Verblijf: Je kunt met je eigen tent kamperen op het mooie terrein of gebruik maken van de comfortabele slaapzolder (max. 5 personen).
Tegen meerprijs is het mogelijk om één- of tweepersoonsaccommodatie te reserveren, waaronder de huur van een ruime privétent met bed. (Wil je een privékamer, informeer dan s.v.p. vooraf naar de beschikbaarheid!). Je voorkeur geef je aan op het inschrijfformulier.
De basisprijs voor deze workshop is 540 Euro (zonder evt. meerkosten voor verblijf).
LET OP: Boek je vóór 15 april dan geldt de vroegboekkorting van 25 Euro!
Inclusief:
* 6 overnachtingen
* alle maaltijden
Exclusief:
* Vervoer naar Harcigny (carpoolen is meestal mogelijk, je kunt dit aangeven op het inschrijfformulier)
Informatie en inschrijven:
Voor alle informatie over de workshop, organisatie, faciliteiten, logistiek: neem contact op met Lot Bierens. 
DEZE WORKSHOP IS VOL!!